30 June 22
Howard Tenens Logistics awarded Multimodal's 'Partner of the Year' award with Mole Valley Farmers.
Howard Tenens Logistics has received the 'Partner of the Year' award at Multimodal 2022 in recognition of a successful partnership with Mole Valley Farmers.
The Multimodal exhibition took place earlier this month, which saw a record-breaking number of attendees over the three-day show, with just shy of 10,000 visitors.
Howard Tenens Logistics has succeeded amongst an impressive array of finalists at the awards presentation. The strengths of the partnership with Mole Valley Farmers could not be looked over with significant efficiency and productivity gains in both the warehousing and transport operation. The partnerships' joint commitment and actions towards carbon reduction were exemplary with Howard Tenens Logistics switching all of its Andover-based transport fleet to run off Hydrotreated Vegetable Oil (HVO) at the start of the year, with further locations following suit.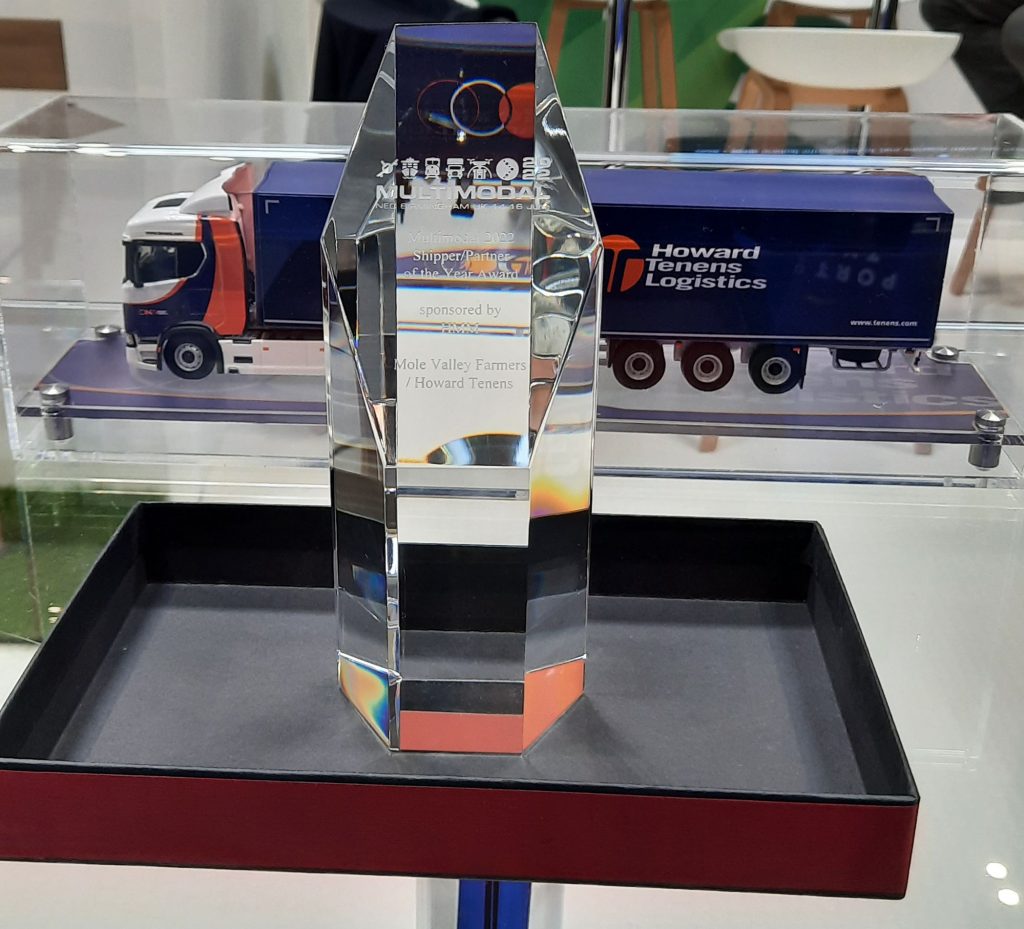 By switching to HVO, HGVs will emit 92% less carbon dioxide equivalent (CO2e) emissions, which equates to a saving of 2,873 tonnes of CO2e a year.
Andy Taplin, Head of Retail Supply Chain at Mole Valley Farmers says: "Here at Mole Valley Farmers, we're delighted to win this award with our partners at Howard Tenens Logistics. This partnership works so well because we have forged an excellent relationship, working towards a shared goal, and working openly and honestly together.
Mole Valley Farmers is striving to reduce the impact we have on the environment and the fact that Howard Tenens Logistics has recently switched to a low carbon alternative, Hydrotreated Vegetable Oil (HVO) across all heavy goods vehicles is a positive step forward in lowering our collective carbon footprints. Both companies share a vision to constantly improve and innovate and we look forward to working together for many years to come."
Since winning the award, the partnership between Mole Valley Farmers and Howard Tenens Logistics has been further recognised with a finalist position for the Motor Transport 'Partnership' Award.
"Receiving the Partner of the Year award is a great testament to the strength of our relationship with Mole Valley Farmers and recognises the tremendous efforts of our teams working collaboratively with our customers to deliver mutual value. We look forward to the future of our partnership, as we continue to improve and innovate such to achieve our shared objectives and carbon reduction strategies" – Matt Davis, Commercial Director at Howard Tenens Logistics