14 February 22
Daisie Hough - Driving the Way for diversity in Logistics & Transport
Have you ever considered a career in Transport & Logistics? How about as an HGV Driver?
Catch an insight into a career out on the road from our interview with Daventry site's latest recruit, Daisie Hough.
Daisie has recently joined Howard Tenens Logistics as a Class 2 HGV driver based in Daventry. Having joined the company at only 21 years of age, Daisie is the youngest driver in the company, yet has settled right in already and become a valued member of the team.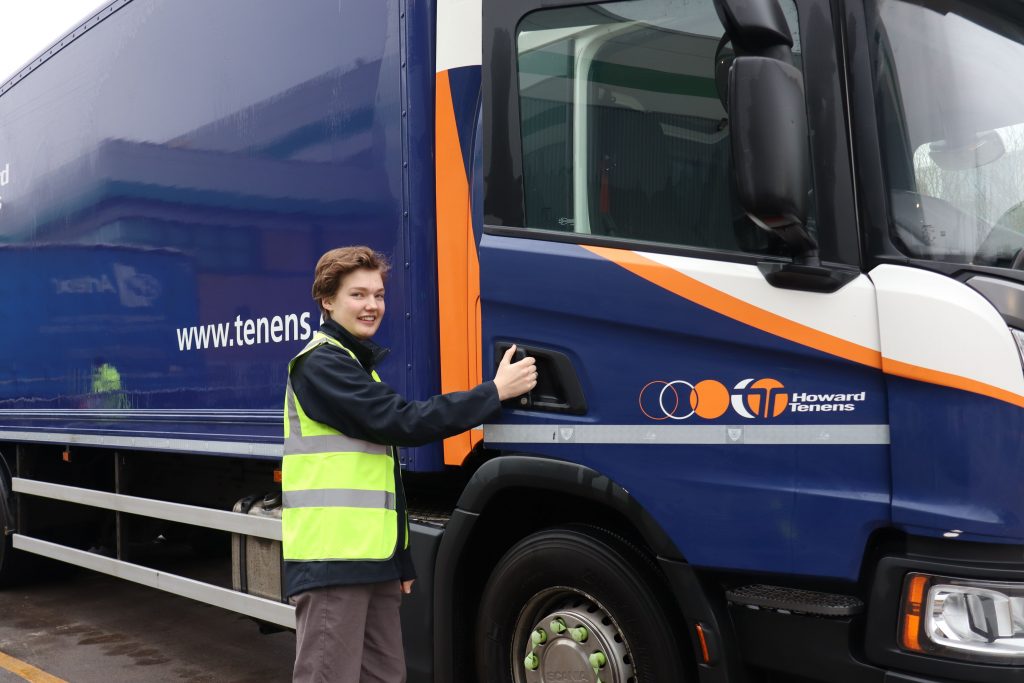 An interview with Daisie Hough
What inspired you to start a career in transport?
I grew up with my dad who has worked in both logistics and as an HGV driver and have always been curious about the industry. I previously worked as a lab technician for a flour mill and had noticed myself clocking the lorries driving past and started to wonder if it was something I could do. After chatting about the ins and outs of the role with my dad, the next thing I knew I was saving up to pay for my test to gain my licence, and now here I am starting a position as a qualified Class 2 Driver.
What are the highlights of your role?
"I really enjoy driving; I've always loved it and even go on long-distance driving holidays. The best thing about the role is the independence you have; I find it quite peaceful. I often take the chance to listen to the radio or even a podcast. The trucking community is really friendly, there's always someone at a truck stop willing to chat and give any advice or assistance if you need it.
What would your advice be for others looking to start a career in HGV driving?
'Go for it! There are so many options and career paths in driving, and the variety of tasks is great. For example, you could be dealing with cages, pallets, or loose items across a whole host of industries. Not to mention, the majority of the current workforce are of older generations, and we need to increase the amount of younger people and minority groups joining the field to increase diversity in the industry and show how HGV driving Is not just for a specific gender or age group, but a career choice for all.
Reflecting on her training journey to date and goals for the future, Daisie commented:
'I've really enjoyed my journey with Tenens so far, I love being out on the road and the lorries are super comfy and look great. Most importantly, I'm especially looking forward to getting out and doing some more runs solo!'
Russell Brown, Transport Manager:
'We are delighted to have had Daisie join our team in Daventry. She has hit the ground running scoring 100 on the EEDI score on her first store delivery outing, which is absolutely fantastic! Daisy has excelled in her training so far, and I'm sure she will continue to develop as an excellent HGV Driver.'
With sites located nationally, why not take a look at our current driving vacancies here.