14 November 22
Peter Morris Recognised with Lifetime Achievement Award
Our Owner, Peter Morris has received the 'Lifetime Achievement' award at Logistics Leaders 2022 in recognition of exceptional logistics leadership.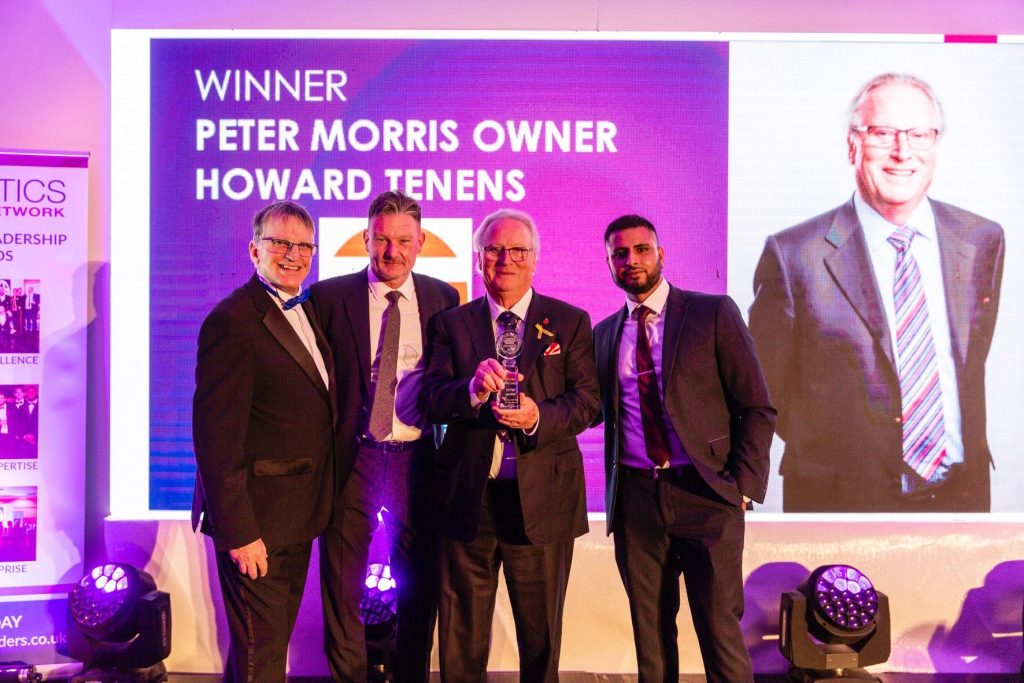 The Logistics Leadership awards took place on Wednesday 9th November to 'recognise the massive shift in importance of the status of logistics leaders and supply chain understanding and expertise in forward-thinking businesses.' The awards, unlike many others, are nominated by other logistics professionals, with the winner identified via a ten-strong judging panel.
"I am honoured to have been selected to receive the Lifetime Achievement award at this year's Logistics Leaders event. Howard Tenens is a family business at heart, having taken over from my own father in 1983 and my sons, Dan and Ben joining the business in 1999 and 2004 respectively. This award recognises the success of the business and its evolvement through challenging periods, particularly over the last couple of years. Our business thrives on the back of the work ethic of our people, without them we would not be where we are today.
I need to particularly thank my two sons Ben & Dan, together with my current senior management team for their support and dedication over the past few years. Their efforts have added considerably to the company's success over the recent challenging period, enabling me to achieve this award.
I look forward to seeing what the future holds for Howard Tenens and the logistics industry as a whole."

Peter Morris, Owner of Howard Tenens.
Peter Morris has taken Howard Tenens from making car crates for exporting vehicles into one of the UK's most successful, privately-owned logistics companies.
Born in 1944, Peter Morris grew up in the Wye Valley and left Monmouth school with one A-Level before being told he wasn't university material. Peter wanted to explore the world and embarked on a journey that would take him to Canada, Argentina and the USA working firstly in the forestry industry before moving into the Automotive industry with Ford, Chrysler and Fiat. Peter then started running the Howard Tenens Logistics automotive sheet metal component contract with Renault and Pressed Steel Fisher. At this stage, Howard Tenens was crating up to 8,000 cars a week to ship all over the world. Peter continued to learn the business, including taking a graduate trainee course at Pressed Steel in Oxford to learn more about the motor trade, followed by a spell in management consultancy at Binder Hamblin, London.

Peter's father retired in 1972 and the company continued to grow. By 1976 it was employing around 2,000 workers and Peter was travelling all over the world. Howard Tenens was then one of the largest case and packing manufacturers in the UK. By 1979 Peter was managing director of the business his father had started. Some of the investments the company had made were successful, others weren't, so Peter started to rationalise, selling off non-profit-making entities and in 1983 he organised one of the UK's first management buyouts. The management buy-out included the transport and warehousing operations side of the business, but very little of its large property portfolio. That didn't hold the business back and Peter began extending outside the motor trade into general distribution and warehousing.

Since 1983, Peter has continued to grow Howard Tenens into the business it is today, with over 4 million ft² of warehousing, a fleet of 250 vehicles and employing over 750 people across 20 locations nationally.
Howard Tenens is a family business and Peter has every intention of keeping it that way. Peter's two sons Ben and Dan both work in the business today whilst the next generation of the Morris family is set to learn the tricks of the trade (once they are old enough).