29 July 19
Group Finance Director Becomes Institute of Directors Chartered Director
Gloucestershire businessman Carl Waterer is celebrating becoming an Institute of Director's Chartered Director, as the highly sought after qualification celebrates its 20th birthday.
Carl, Group Finance Director for UK logistics specialist Howard Tenens Group, based in Thrupp, Stroud, joins an alumni of 73 other Chartered Directors in the South West region, making it one of the most successful areas in the UK for the qualification.
The Chartered Director programme was developed to give business leaders the skills to perform at the very highest level, blazing a trail for effective governance in the UK and beyond. To become a Chartered Director you first have to successfully complete the IoD's Certificate in Company Direction and the Diploma in Company Direction. There are now a total of 900 Chartered Directors in the UK and 1649 worldwide.
Carl, aged 52, joined Howard Tenens in March 2011. The company has a turnover of some £95m with a fleet of 157 vehicles and over 3 million square feet of freehold warehousing.
He said: "I took my first Director role back in 2004 with a small organisation and a very limited knowledge of the responsibilities that are attributed to this statutory role.
"A few years into this role, I was given the opportunity to further my education and I chose to engage with the IoD on their Certificate and Diploma training because I believed this route would develop my knowledge in a very practical and applicable way.
"The training courses were first class with much interaction and networking with fellow professionals. Like any decent education, examinations then prove the learning and ratify the individual's ability to apply the learning effectively and I passed both papers in May 2009.
"More recently, having had two promotions with my current employer, I was given a statutory director role in several group entities. The company supported me in updating my knowledge by attending the Diploma course again. It was here that the concept of firming up my education with an application to become a Chartered Director was re-ignited. I felt that the time was right and that my experience was now more solid having responsible positions within a larger organisation. If you can, I would encourage anyone in a similar position to me to consider the qualification for both professional and personal development."
We are extremely proud of the fact that we have one of the highest numbers of qualified Chartered Directors in the UK here in the South West and I am delighted to welcome Carl to the group.

Muir Macdonald, South West regional chairman and a fellow Chartered Director
"The Chartered Director qualification is the ultimate stage of a process designed to give both serving and aspiring directors the tools they need to be effective in their roles, wherever they may be in the world and whatever size or type of organisation, private, public or third sector. Not only does the training emphasise the significance of good governance and high integrity in the success of our endeavours, but it helps us to sleep more easily!
"The courses also provide great networking opportunities as you learn alongside fellow experienced professionals from a diverse range of backgrounds."
Carl's certificate was presented to him at a reception hosted by Aston Martin in Cheltenham in association with financial and professional services firm Smith & Williamson, which heard from Colin Watson, Aston Martin's Vehicle Line Director.
Louise Somerset, Partner and head of Smith & Williamson's Cheltenham office, said: "We were delighted to support this event and get a fascinating insight into Aston Martin's hyper car programme."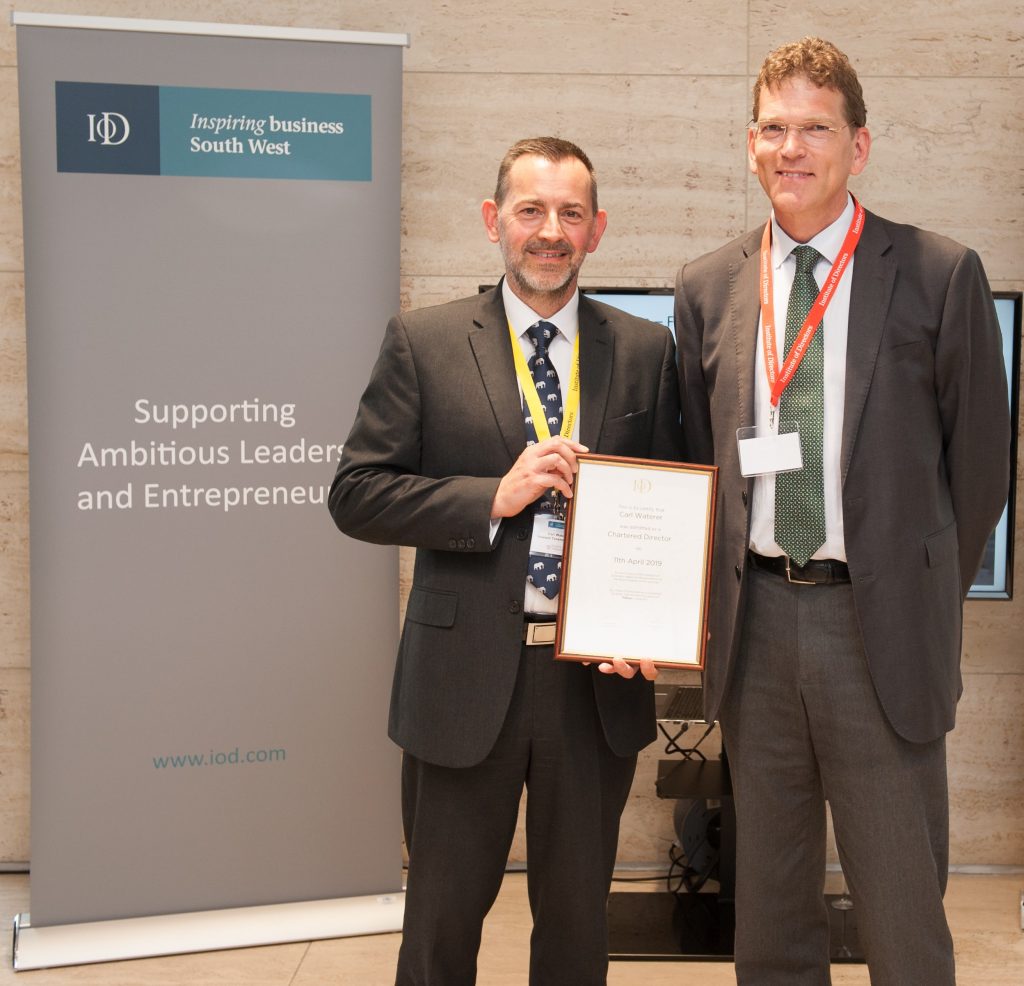 Picture caption: Carl (left) with SW IoD Chartered Director Ambassador Rob Varley