Case Studies Honda UK
Keeping the wheels turning for UK dealership network
Since 2000trusted as a spares delivery partner
100%of the car business managed by us
200UK dealerships serviced by us
Honda Motor Europe Logistics (HMEL NV) was established in 1978 as a subsidiary of Honda Motor Corporation in Japan. The logistics function is delivered through a network of 7 hubs, each set up for the best possible integration of the parts business in Europe. The Swindon operation is 1 of 7 centres throughout Europe, and amongst other things is responsible for the processing and delivery of spare parts across the UK Honda dealership network.
Here Steve Jackson, General Manager of HMEL NV and Matt Davis, General Manager Network Transport of Howard Tenens look at the power of relationship, innovation and transparency in a fast moving and commercially challenging world.
---
On keeping the wheels turning for Honda's UK dealership network
Since 2000, Howard Tenens has been the trusted partner for the delivery of spares to dealerships throughout the UK, working a night time operation to ensure that the dealers keep their promises to customers and the core values of the Honda brand are protected.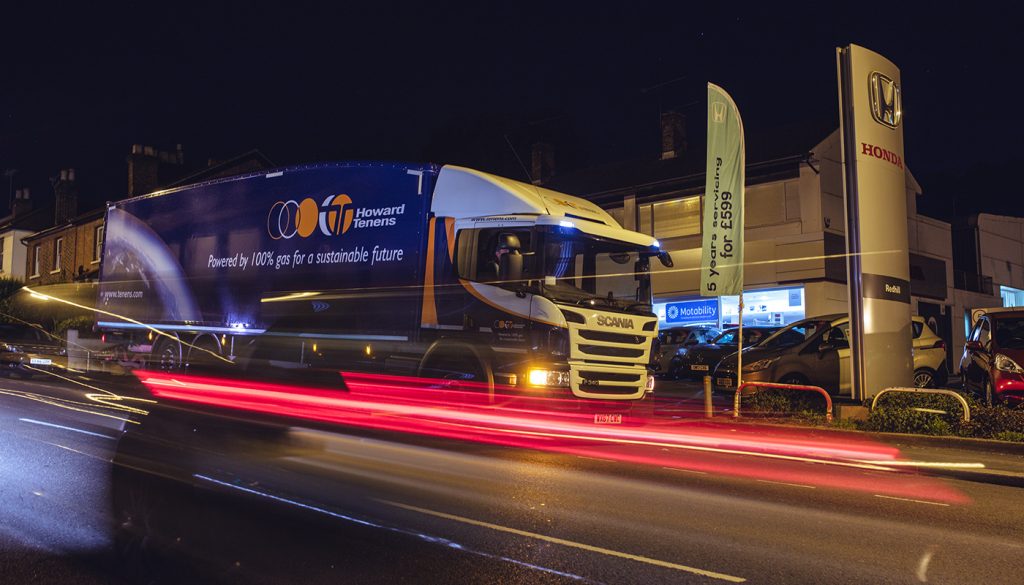 Steve Jackson: "Without a doubt the delivery of spare parts to our dealership network is the larger portion of our business. In principle the system is straightforward, however, without the right partners and supply chain the process could become hugely problematic with high cost implications across the board.
Before selecting Howard Tenens we were struggling with parcel companies that allegedly 'specialised' in automotive parts distribution. We found that this was not the case. Whilst our damage and discrepancy levels were in line with the rest of industry, I was tasked with reducing them by 90%. So something had to change.
We initially gave 50% of the car business to Howard Tenens on a dedicated solution. Over the next 2-3 years we moved that up to 100% and we haven't looked back since."
Currently, Honda has more than 200 UK dealerships which rely on an efficient, consistent and quality delivery of spares every day. From Cornwall to Inverness, each dealer must receive the same 24 hour turnaround service – without fail.
Matt Davis: "With our established history in the automotive parts sector and our ability to provide flexible solutions we knew we could shape our offer to the exact needs of Steve and his team."
Our job is about more than moving things from place to place; it's about protecting the items in our care, keeping Honda's promises to its customers and safeguarding all of those employed to get the job done.
---
On the power of trust and transparency
Steve Jackson: "We operate a Total Quality Management approach that is based on systematic methods, aimed at improving our efficiency and effectiveness. It is important for our suppliers to work in line with these too. Howard Tenens' privately owned status helps this happen. I know that they can react with us as situations change, pressures grow and market demands evolve. They can blend their practices in with ours. Importantly, I believe that our cultures also complement each other's; which helps us all get to where we want to be."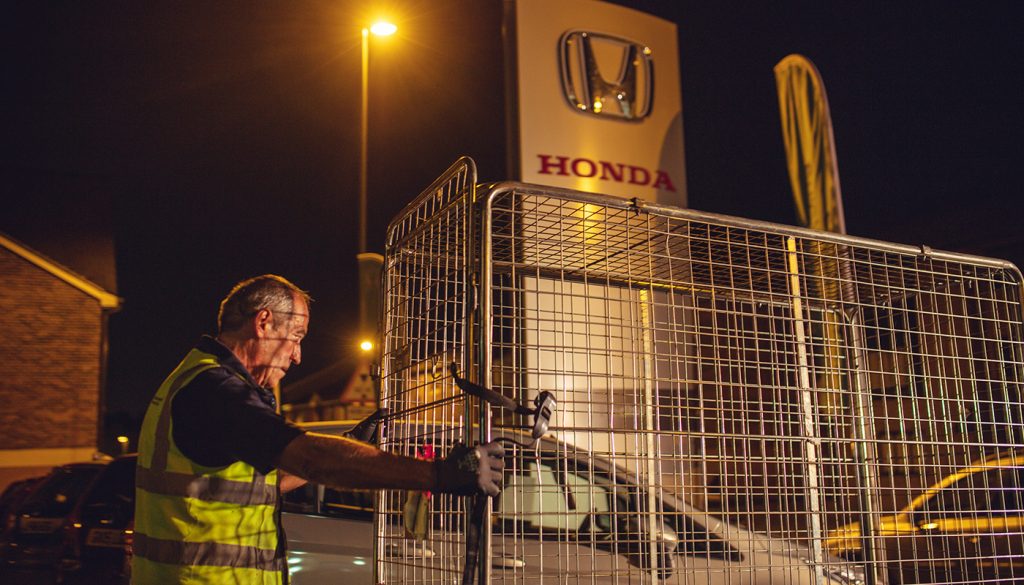 Matt Davis: "This really is a partnership. It's about adding value at every stage, whether through cost management, innovative strategies or resource sharing schemes. From the minute a dealer puts in a request the process is seamless. There is a real sense of synergy between our organisations, working jointly to deliver outstanding customer service, quality, operational efficiency and trust."
Steve Jackson: "They help us keep our commitment to our customers. The fact that they are a local company is key visibility makes a real difference. Their constant presence means that they get under the skin of our operation and truly understand what makes us unique. The trust and accountability that we place in their team is huge. The fact that they have such a good track record for staff retention means that many of the drivers that operate our routes are well known to us and our dealers.
Their transparency and openness are refreshing - I can pick up the phone and speak with anyone. We have regular reviews and they understand our culture so when they are planning for the next 12 months I know that we are front of mind."
---
On strategies for sustainable futures
Honda's reputation and commitment to sustainability is second to none – from development to disposal, every task is completed in such a way as to minimise the environmental impact. But what about the impact on the supply chain?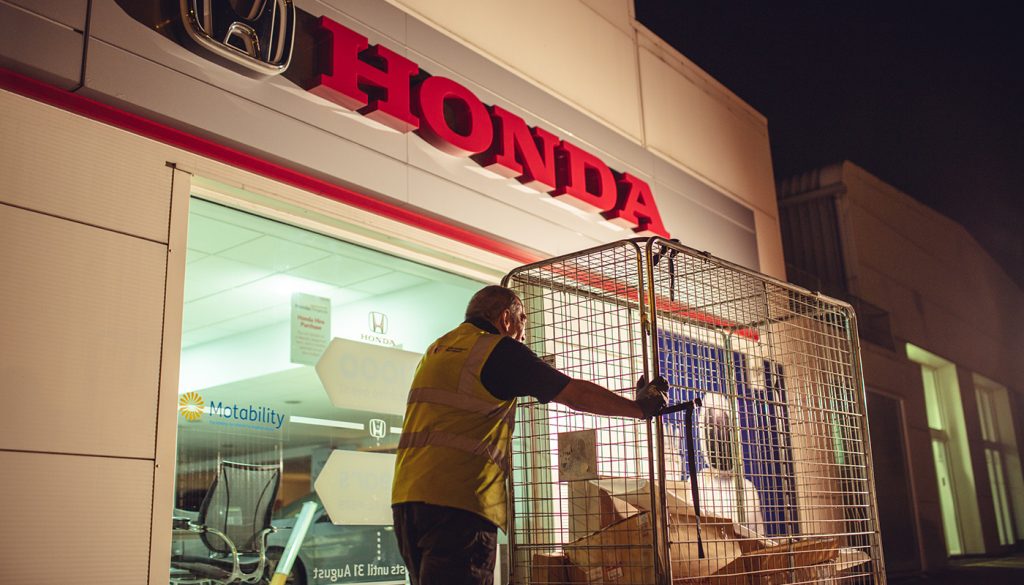 Steve Jackson: "We have very clear targets as a business and each department has a clearly defined role to play. This impacts through the supply chain to the activities of all of our suppliers. Howard Tenens are the one supplier I don't have to push. I never need to ask, they come to me proactively and make sure that I am fully informed of the initiatives they are taking. As an example they have recently renewed the fleet so we are running with dual fuel. This works well for me and falls in line with Honda's philosophy."
With such a wide terrain to deliver over, the strategic network of locations comes into play. Swindon is the central hub for delivery onto all southern dealers, where our outbases including London, Ashby, Manchester, Scotland and Exeter are used to reach the rest of the UK network.
Matt Davis: "We make a significant commitment to sustainable operations. Our dual fuel fleet is indeed the most sizeable example of this, but there are many other examples which run right through from Head Office to our depots, client sites and beyond."
Steve Jackson: "As a business we are looking at delivery quality all the time, but with Howard Tenens we got it right first time so we look now at cost base and ways in which we can maximise our Return On Investment. Over the last few years we have all been under pressure, and cost always has to come out somewhere. But I also realise that we want to retain the service without stripping costs too much. So again Howard Tenens came up with another solution which meant that I could have just that – reduced costs but maximum service. The team at Howard Tenens proactively found other partners to work with who would utilise our fleet. The end result is that the fleet is used 24 hours a day and in return we cross-dock in our operation. It's a win-win scheme that they brought to me and was made possible because we work flexibly together."
---
On the future
Steve Jackson: "The key for me is to retain the service and quality levels that we have achieved. Together we will review our footprint and continually improve. We are both in this for the long haul and I am excited to see where this partnership takes us."
How would I sum up Howard Tenens? Simple! Good job done!